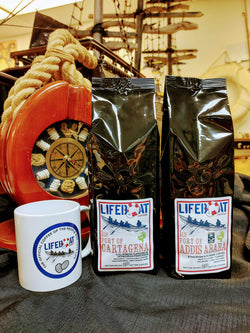 Skipper's Monthly Coffee Club! ------->[Click "Enlist"]
WELCOME ABOARD!
When you join the Skipper's Coffee Club, you'll get happiness, convenience and savings delivered right to your door, each and every month!
After enlistment, we'll make sure you get two, 1lb (16oz) bags of the finest coffees available - INCLUDING ALL IN THE ADMIRAL'S RESERVE - with something NEW and exciting each month from our collection of coffee beans from 13 different countries and multiple blends!.
Plus, 5 times per year, part of your shipment includes a Specialty Rare coffee from an exotic location! These coffees, marked "Special," retail for $35-$55 per pound and they are our way of rewarding your loyalty!
****NOTE**** We are proud to be a veteran and family owned roastery in the heart of Arizona., We roast six days per week so that your coffee is always fresh!
*****2NOTE**** 
The coffees we send will rotate between our mediums, our darks, our blends and occassionaly even once per year, one will be French Roast.  The intention is that throughout the year, you will enjoy almost all of our coffee offerings.